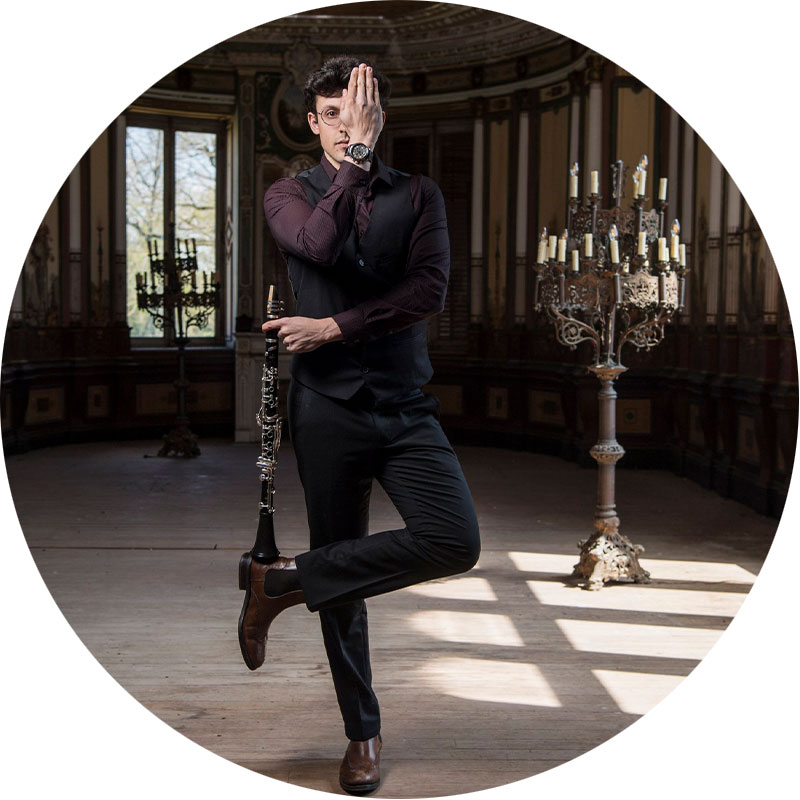 Kevin Pedro Spagnolo
In 2018, at only 22 years old, Kevin wins the First Prize of Geneva International Music Competition, one of the most important and prestigious competitions in the world. He is the youngest clarinetist of all times to get this important award in the history of this competition. From this moment on he gets invited regularly for recitals, chamber music, and solo concerts in important Festivals and tours. Kevin performed as soloist with Mariinsky Theatre Orchestra playing A. Copland Concerto with Anton Shaburov, in the festival organized by Musical Olympus, Orquesta de Aguascalientes with Roman Revueltas, Bruxelles Philarmonic with Antonio Saiote, Orchestre de Chambre de Genève with Pierre Bleuse, Orchestre des Nations with Vitor Fernandes and Antoine Marguier, Swedish Chamber Orchestra with Martin Fröst and once with Micheal Collins, Orchestra Regionale Toscana, in a tour through Tuscany, with Nil Venditti. He had recitals and tours with pianists such as Carlos Sanchis, Chloe Ji-yeong Mun, Thèo Fouchenneret, Lorenzo Soulés, the string-quartet Quatour Voce, and in duo with Vitor Fernandes accompanied by Serika Saito. He performed in Berliner Philharmonie, Mariinsky Theater, Teatro Verdi Firenze, Montpellier Festival (Festival Radio France), Festival de les Haudères, Festival de Jeunes Talents in Paris, Concerts d'été à Saint Germain in Geneva, France Musique, Filarmonica di Rovereto, among others, and some of his concerts were recorded for Radio France, Rai Radio 3, Radio Suisse Romande.
In 2020 Kevin recorded his first Soloist CD with Swedish Chamber Orchestra and Micheal Collins playing C.M. von Weber's "Concerto n.1 op.73" and "Andante e rondo Ongarese", Jean Francaix "Clarinet Concerto", Rossini's "Theme and Variations", and "Sholem Alekhem" by Béla Kovacs. The album will be released in 2021, and it was offered by Geneva International Competition and Breguet. Everything started with Kevin, learning to play the clarinet, at the age of eight and joining the conservatory "Istituto Superiore di Studi Musicali Luigi Boccherini" in Lucca, and leaving in 2013 after graduating and completing the Bachelor's Degree with the best marks and honours under the teaching of prof. Remo Pieri. During his studies, he won several local, national and semi-international Competitions, with which he had the possibility to perform and have first recitals. After his Bachelor, he studied with Carlo Failli and Fabrizio Meloni and intensified his learning and entered the prestigious Conservatory in Geneva. After his first Master's Degree at HEM in Geneva (Haute Ecole de Musique de Genève), completed in 2017 with a special prize, he graduated for his second Master's Degree Soliste with Romain Guyot in 2019. Besides the Geneva International Competition Geneva, Kevin won Third Prize in Jacques Lancelot International Clarinet Competition in 2016 and in Ghent International Clarinet Competition in 2017, First Grand Prize in the Berliner International Music Competition. From 2019 Kevin is Principal clarinet of the Swedish Chamber Orchestra with Martin Fröst as chief conductor. As orchestral player Kevin had many experiences as Principal Clarinet in orchestras as: Teatro alla Scala, Orchestra Regionale Toscana, Teatro San Carlo di Napoli , Malmö Symphony Orchestra, Swedish Chamber Orchestra, Leonore Orchestra in Pistoia, Verbier Chamber Orchestra. He was also member of some youth orchestras and Festivals as: Orchestra Giovanile Italiana, Gustav Mahler Jugend Orchestra, Verbier Festival Orchestra. With all these orchestras Kevin had tours and many concert's all over the world playing in concert halls as Concertgebouw Amsterdam, Konzerthaus Berlin, Saechsiche Staatskapelle in Dresden, Kloster Eberbach among others. During his career he played under conductors as Valery Gergiev, Herbert Blomstedt, Philip Jordan, Simon Rattle, Klaus Mäkelä, Antonio Pappano, Gábor Takács Nagy, Christoph Eschenbach, Charles Dutoit, Esa-Pekka Salonen.