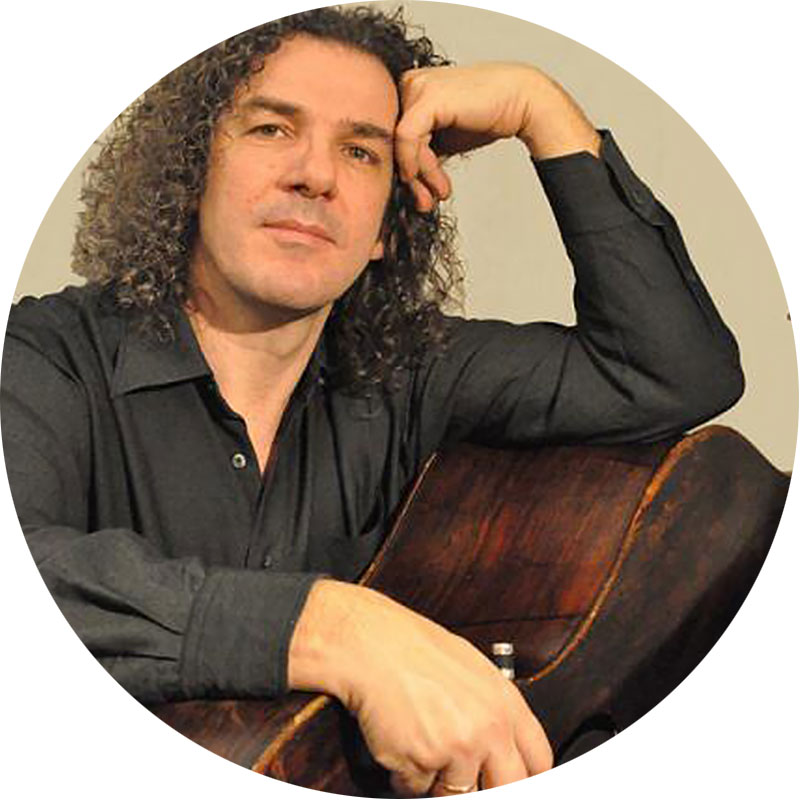 Alberto Bocini
born in Prato (Italy). He's been Principal Double Bass player for 5 years in the "Orchestra Nazionale nell'Accademia di Santa Cecilia" in Rome and for 15 years dell' "Orchestra del Maggio Musicale Fiorentino" in Florence; with the same role he appeared with many
other orchestras, such as La Scala di Milano, I Solisti Veneti, the London Symphony Orchestra.
Founder member of the popular double bass quartet "the Bass Gang", presenting an extremely heterogeneous repertoire as musical choices, virtuosity and irony; they released 2 CDs and 1 DVD; NHK in Japan, KBS in Korea, RAI in Italy, broadcasted their concerts and interviews.
He has taught masterclasses in much of the world: Europe, Usa, Japan, Taiwan, South America. As a soloist he has recorded for Denon, Stradivarius, Velut Luna, NBBrecords. Since he left the orchestra in 2012 he's dedicating more in writing for his instrument; there are
many of his works for solo double bass like his "6 Ballads" and Tre piccoli pezzi"; more recently he released his first work for double bass and orchestra "XUITE-0, modular suite for amplified double
bass and orchestra" and "Sliding Doors, for violin, double bass, orchestra and cell ringtones" . An eclectic and enthusiastic musician, Alberto Bocini does not hesitate to push the boundaries of his repertoire, not only with the Bass Gang or with his own compositions, but also ranging over rock music (see the album "The Cryme of Selling Lambs", NBBrecords, dedicated to Genesis),
soundtracks (see the album "Moving in the Movies", NBBrecords) or contemporary music ("Braevissimo", concerto for double bass and strings by Ennio Morricone, for Denon, Japan).
Since 2009 is professor at the HEM – Haute Ecole de Musique de Geneve.