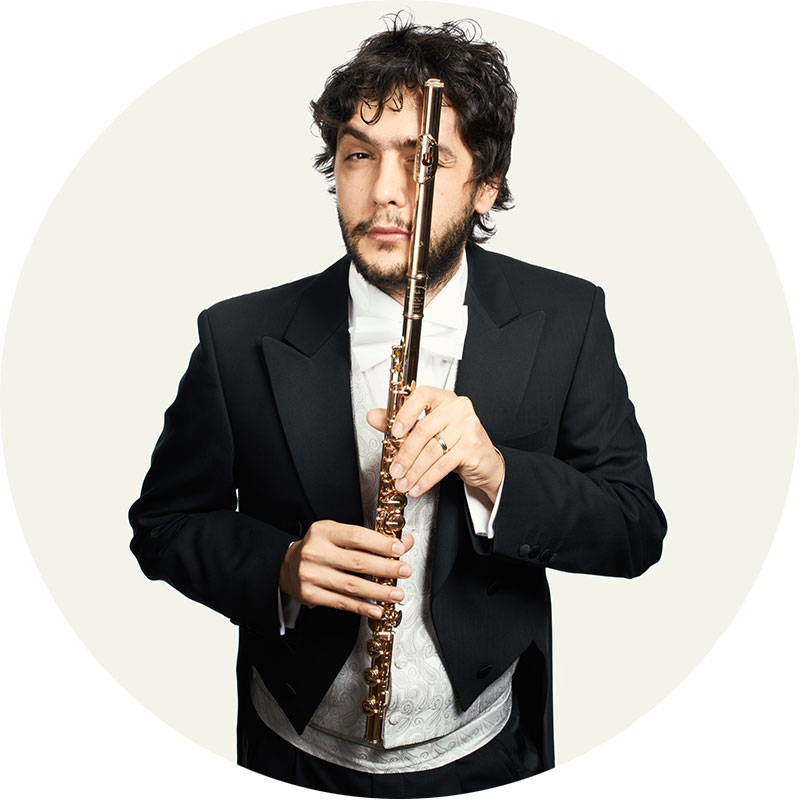 Gianluca Campo
Born in 1989, Solo Flute at the Sinfonieorchester St. Galen (Switzerland), Gianluca Campo collaborated as First Flute with the Filarmonica del Teatro Regio di Parma, Orchestra del Teatro ala Scala, Orchestra del Teatro Carlo Felice di Genova, Orchestra Sinfonica Siciliana, Filarmonica del Teatro Regio di Parma, Gürzenich Köln Orchester, Orchestra del Magio Musicale Fiorentino, Musikkolegium Winterthur, Luzerner Sinfonieorchester, Accademia di Santa Cecilia in Roma und Bayerische Staatsorchester.
He was a member of the Luigi Cherubini Youth Orchestra under the direction of M° Riccardo Muti; afterwards he held the position of "Academist" at the Bayerische Staatsorchester in Munich under the direction of M° Kiril Petrenko. He started his flute studies with M° Giovanni Roseli and graduated with honors at the Musical Institute "V. Belini" of Catania in the class of M° Elena Favaron.
In 2010 he follows the annual Master "I Fiati 2010" by M° Andrea Oliva at the Accademia Nazionale di Santa Cecilia in Roma. In February 2012, he also graduated at the Staatliche Hochschule für Musik und Darstelende Kunst Stuttgart, studying with M° Davide Formisano, brilliantly obtaining the Bachelor of Music. In February 2014, at the same Hochschule, he obtained the Master of Music with the highest score (1.0 Sehr Gut). He also follows several Masterclass with renowned flutists such as James Galway, Sophie Cherrier, Maxence Larrieu, Jean-Claude Gerard, Michele Marasco, Emmanuel Pahud, Patrick Galois, Paolo Tabalione. He won numerous national solo competitions including: the "Città di Ravanusa" , the "Città di Barcellona – Pozzo di Gotto" both in 2007 and in 2009, the "A.M.A. Calabria- Lamezia Terme", the "Premio Paolo Randazzo 2009", the"Emanuele Krakamp" Competition 2010, the "Città di Guastalla" 2011. With the Stuttgart Hochschule Dezett, he won the third prize during the "Hochschulwettbewerb Düsseldorf 2012". With the "Falstaff Quartet", he won the First Prize at the "S. Gazzelloni " 2015. He is particularly active in Chamber Music, he performed at the Monte San Pietro Festival (Bologna) and in Bolzano for the project "Donatori di Musica", at the Villa Pennisi Festival in Acireale, at the Trasimeno Music Festival, at MusicaRivaFestival 2017, at the Ravenna Festival. He was often invited as the first solo flute by the "Cameristi dela Scala" and by the "Cameristi del Magio Fiorentino" for international concerts and tours.
As a soloist he performed with the "Saturnia Festival" Orchestra, with the Bosnia-Herzegovina Peace Orchestra (MusicaRivaFestival 2017). During the Season 17/18, he performed the concert for Flute and Orchestra by J. Ibert with the Sinfonieorchester St. Galen, under the direction of M° S. Rouland. Since the beginning of the season 2016/2017 he is a Solo Flute of the Sinfonieorchester St. Galen. In the season 2019/2020 he will play as Solo Flute at the Bayerische Staatsoper. He is a founder member of Quartetto Falstaff.