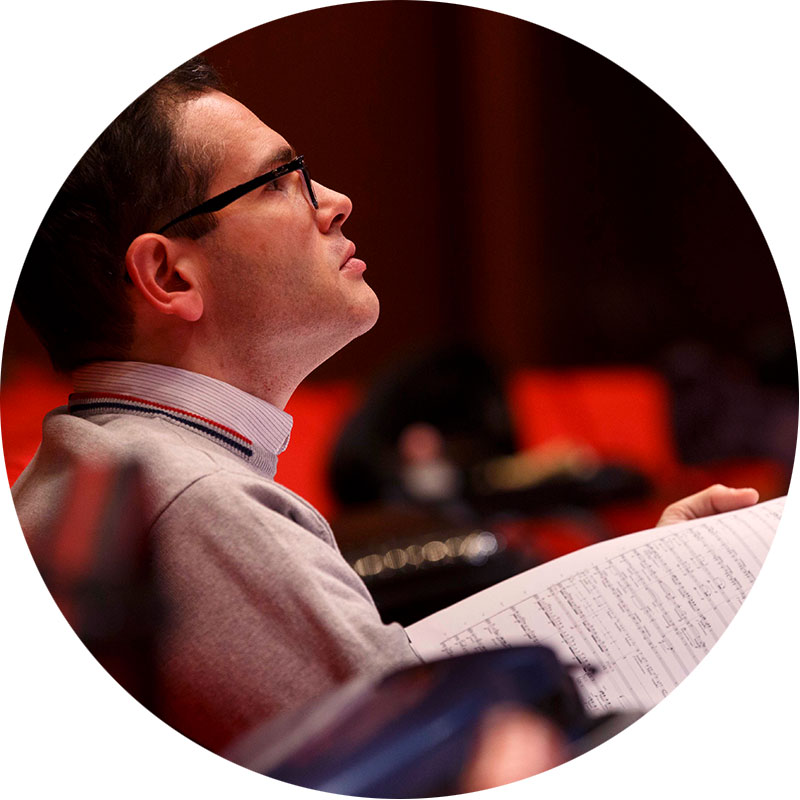 Riccardo Panfili
Born in Terni in 1979, Riccardo Panfili gained a diploma in piano with full marks, honour and special mention, under the guidance of Elio Maestosi. He then studied composition with Ivan Vandor and gained a diploma with full marks and honour.
At a very young age he wrote his first compositions under the precious guidance of Vieri Tosatti. From 2003 to 2006 he attended courses held by Azio Corghi at the Accademia Chigiana in Siena, and at the Accademia Filarmonica in Bologna. Subsequent to the courses held in 2004 and in 2005 Corghi awarded him the Diploma of Merit. In 2006 he won First Prize in the Santa Cecilia International Composition Competition in Rome with the orchestral work Danzario, which was given its world première on 7-9-10 February 2009 in the Auditorium Parco della Musica in Rome conducted by Antonio Pappano and was repeated during the Canaries Music Festival (on 14 February in Tenerife and 16 February in Las palmas).

He is winner of numerous International Awards: First prize of International Composition Competition "A Camillo Togni" (114 scores; Mario Bortolotto as president of the jury); in 2008 he was awarded Second Prize in the 6th edition of the "Henri Dutilleux"
Composition Competition (Henry Dutilleux himself as president of the jury, 219 participants from 41 countries worldwide); Third prize in the "Egidio Carella" International Composition Competition (Ivan Fedele president of the jury); was selected at the 7th International Competition organized by Taukay editions in Udine, and was awarded Third Prize in the 2008 "Ton de Leeuw" International Composition Competition (second edition, Tirana); in 2011 was awared "Nino Carloni" assigned by Italian Music Critics, and in 2012 he won the Play.it Prize. In 2010 RadioRai selected his piece Le Roi Bombance (commissioned by the Orchestra Nazionale della Rai di Torino, first performed at the RaiNuovaMusica festival in Turin) for the prestigious International Rostrum of Composers in Lisbon. His works have been performed by Orchestra Nazionale di S. Cecilia in Rome, Orchestra della Filarmonica a La Scala in Milan, Orchestra Sinfonica Nazionale della Rai in Turin,
Orchestra del Maggio Musicale in Florence, Orchestra Filarmonica in Turin, Orchestra della Fondazione "A. Toscanini" in Parma, Orchestra del Teatro Lirico in Cagliari, Kammerakademiae Berlin, HRO Orchestra in Lucerne, Prometeo Quartet, Dedalo Ensemble, Ensemble InCanto, Thema Ensemble, Ensemble Dutilleux in Tours, Ton de Leuuw Ensemble in Tirana etc.; by conductors including Sir Antonio Pappano, Fabio Luisi, Juraj Valčuha, Carlos Izcaray, Jonathan Webb, Tito Ceccherini, Pietro Mianiti, Fabio Maestri, Vittorio Parisi, by soloists including Alessio Allegrini, Alessandro
Carbonare, Alfonso Alberti etc. For several years now he has been regularly collaborating with the percussion group Tetraktis. In 2012 he released a CD published by Decca (Inventions) containing his music, with Alessandro Carbonare, clarinet, and Tetraktis Percussions.
In April 2014, L'Aurora, probabilmente, a work for large orchestra, was performed in Teatro alla Scala in Milan (commission of Teatro alla Scala) under the baton of Sir
Antonio Pappano.
 Always in 2014 there were the première of Inside, for clarinet and orchestra, commissioned by Teatro Lirico in Cagliari conducted by Alessio Allegrini, and the première of a string quartet — Lo smalto sul nulla — commissioned by Internationale Kammermusikfestival Nürnberg 2014. In 2016 the piece L'Aurora, probabilmente has been performed, in a new version, by Orchestra Nazionale di Santa Cecilia in Rome, conducted by Sir Antonio Pappano, and in the same year there was the première of Oltre la linea (Über die Linie) a new work for large orchestra commissioned by Teatro a La Scala in Milan, under the baton of
Fabio Luisi. In november 2016 the same piece was performed in Maggio Musicale in Florence conducted by Juraj Valčuha. In Dicember 2017, Fabio Luisi conduct a new symphonic piece, Abitare la battaglia, commissioned by Maggio Musicale in Florence. Among his future engagements, a new commission from Maggio Musicale, for an opera, Noi…, based on the libretto of the italian director and writer Elisa Fuksas; a chamber opera, Antigone, based on a libretto of playwright and director Michael Kerstan, that will be performed, the next year, in Internationale Kammermusikfestival Nürnberg, and a string sextet for a Stradivari Sextet of Accademia Nazionale di Santa Cecilia. Since 2010 he has had the honour of being chosen by Hans Werner Henze as his musical assistant, and in November 2013 the Steering Committee of the Hans-Werner-Henze tiftung awarded him the first Fellowship of Foundation.