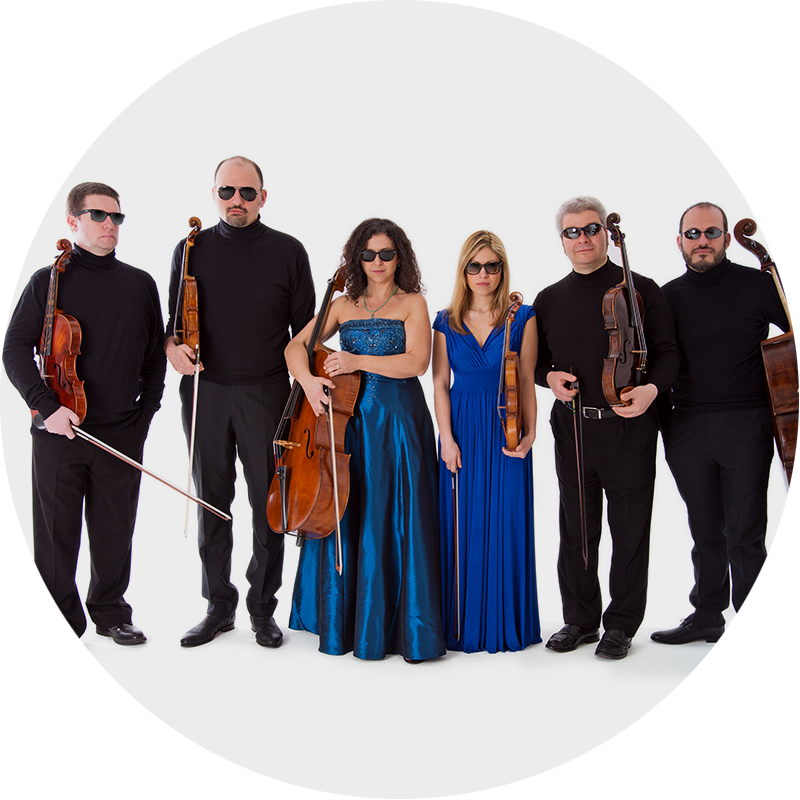 Sestetto Stradivari
Featured by solo instruments of the Orchestra "Accademia Nazionale di Santa Cecilia" in Rome, Stradivari Sextet has been founded on december 2001 on the occasion of planned concerts, during the International Exhibition "L'arte del Violino" held in Castel Sant'Angelo in Rome.
Harmony, cohesion and passion profused for this first event became an inspiration for a bigger and wide-ranging project. Stradivari Sextet is now committed in several concerts for the most important national and international musical institutions.
In the last years the Sextet has been invited by eminent associations, such as "Alessandro Scarlatti" in Naples, "Festival Paganiniano di Carro" where Sextet played "SELAH" – new dedicated commission by Alessandra Bellino, "Amici della Musica di Montegranaro", "Amici della Musica di Firenze", "Concerti d'Altamarca" – playing in historical Abbazia in Follina, Palau de la Musica in Valencia.
Sextet took part to several edition of "White Night" and "Museum Night" in Rome performing in Palazzo Braschi and Palazzo Barberini, having a great critical success and finding a huge enthusiasm in the audience.
Invited by Mario Brunello the Sextett played in the amazing valley of Laghetti di Bombasel in front of 1000 people during Suoni delle Dolomiti Festival 2010.
Sextet upcoming activity: International Festival of Ravello, return to Naples Scarlatti Association, Latin America tour – in may, playing with the pianist Eduardo Hubert in Argentina, then in Brazil in June, where they will be special guests for "Na copa na Italia" cultural events for World football Championship – and China tour in November.
Stradivari Sextet is regularly invited teaching in chamber music masterclasses and is Residence Artist in Villa Pennisi in Musica in Acireale, Catania.